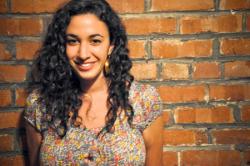 Emanuela Orsini
Author
Emanuela Orsini, also known as "Manu", is a talented young lady who shares her culinary discoveries with us.
Recent posts from Emanuela
Seeing a guinea pig on sticks being grilled over a fire was probably the biggest culture shock during my trip in Ecuador and Peru. Unfortunately, I did not have the courage to try it, however I learned that this animal is commonly served as a popular dish in the Andes region. The cuy, as the […]
Gastronomy in Peru is now becoming more and more popular around the world and is known to offer some of the most delicious specialties within South America. During my travels in Peru, I was able to discover various exquisite specialties of this beautiful country.
Ecuadorian specialties vary according to the different regions. During my travels, I stayed in the central part of the country, in the Andes Mountains and tried some interesting dishes. Here are a few of my discoveries.
Coffee is the product from Colombia that is probably the most famous worldwide, and makes up a big part of the pride and culture of this country. Indeed, Colombia is the third biggest producer of coffee in the world. It is produced in high mountains; grown in the three mountain ranges of the Andes as […]
One of the most amazing and memorable aspects of Colombian gastronomy would have to be the wide variety of delicious and exotic fruits that this country has to offer. They are refreshing, tasty and a great and healthy part of the Colombian diet. Colombian territory encompasses a large part of the Amazon rain forest, two […]
These other delicacies are also popular and typical around the country. Their ingredients vary from region to region, which makes them all the more interesting and delicious!
During my trip, I noticed that Colombians love to mix their sweet and salty foods. The most obvious demonstration of this is in their typical Colombian breakfast specialties.
When I first departed onto my Colombian adventure, I had very little knowledge of the country, let alone its culture, its beautiful landscapes, its music ("vallenato" and "cumbia") and most importantly its rich gastronomy. Colombian food is quite distinct from its South American neighbors and has many of its own typical delicacies.
Our team is growing: Emanuela Orsini, also known as "Manu", is joining the SOSCuisine team. This talented young lady will share with us her culinary discoveries. We are excited to have her on board! Here she is: Growing up in an Italian family, with an Italian mother who spends most of her time in the […]