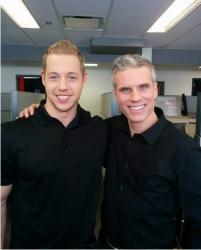 Steven Couture
As the founder of www.nutritionniste-sportif.ca and a trainer in nutrition at www.xpertise360.com, Steven is a renowned sports nutritionist. Being recognized for his numerous talents and contributions in sports, Steven serves as a nutritionist for many athletes. He also helps with weight management.
The following recommendations are intended ONLY for sportspersons who do strength training (i.e. who practice crossfit, bodybuilding or even weightlifting), are quite strong, and carry out their activity diligently week after week. Are you diligently pursuing strength training, do you want to lose weight and do you gauge your progress constantly by checking your weight […]
Scientific facts about sleep Long-term sleep deprivation could result in body fat gain. Even in the short term, when we sleep less and our calorie intake is restricted, researchers suspect a decrease in fat loss versus muscle loss. Altered sleep causes a decrease in cognitive performance. Sleep is the period during which the greatest secretion […]
This article was written without taking into account websites and blogs on the subject. Scientific literature is the only source of information used. 'Paleolithic age diet' is the term used to describe the diet of prehistoric humans.
Hydration is a matter of utmost importance for sportsmen and is part of every sport in varying degrees, be it at the recreational or competitive level. Indeed, it is a given that no matter how competitive or not a sport may be, hydration will always play an important role in it. The fluid needs of […]